Career Coaching at Goodwill
Goodwill's experienced career coaches help people find new jobs or connect with more fulfilling careers and workplaces — for free. You can get started by making an appointment or visiting a Goodwill Job Connection location.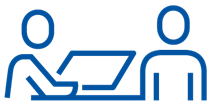 Find a role, career or workplace that's a perfect fit.
Searching for a better job? Returning to the workforce after time away? Have resume or networking questions?
Make your first step a free career coaching session that includes services like:
One-on-one career counseling
Resume/cover letter creation or review
Interview prep
Application assistance
Employment leads and referrals
Last year, Goodwill helped thousands of South Carolinians connect with new jobs, careers and workplaces. Let's get started on your next opportunity, today.
Schedule your free virtual or in-person session with a Goodwill career expert.