Career Coaching
Goodwill's free career coaches help you land more than a job. Connect with a better career or workplace. Whatever your field, skills or age, you can create a brighter future with help from an experienced — and free — Goodwill career coach.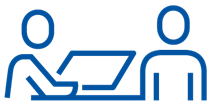 Career Coaching Services
Any field, age or skill level
One-on-one support
Application assistance
Interview prep
Employment leads and referrals
Career change guidance
New Career Paths
Free-and-low-cost certification programs
Roles in transportation, logistics, healthcare and education
Get started on your next opportunity, today. Schedule a free virtual or in-person session with a Goodwill career coach.
Connect with a Career Coach