Goodwill Industries of Upstate/Midlands South Carolina Welcomes New Vice President of Human Resources
September 14, 2023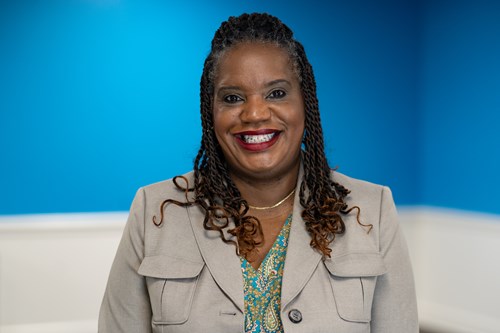 Goodwill Industries of Upstate/Midlands South Carolina (GIUMSC) is pleased to welcome Marcia Leake as Vice President of Human Resources. With an extensive background in human resources leadership and a deep commitment to the mission of GIUMSC, Leake brings a wealth of experience and expertise to the organization.
In her new role, Leake will be responsible for overseeing all aspects of human resources management, including talent acquisition, employee development, benefits administration, and fostering a positive and inclusive workplace culture. She will play a vital role in ensuring that Goodwill continues to attract, retain, and support a diverse and talented workforce.
Leake comes to GIUMSC with over 25 years of experience in human resources and leadership development. She has a proven track record of implementing innovative HR strategies that enhance organizational performance and employee engagement. Her leadership style, combined with her dedication to social responsibility, aligns seamlessly with GIUMSC's mission to provide access, information, and resources to help people improve their lives through the power of work.
"We are excited to welcome Marcia to the Goodwill team, " said Pat Michaels, President and CEO of GIUMSC. "Her extensive experience in human resources and her passion for our mission make her the ideal candidate to lead our HR department as we continue to grow and serve our community."
Leake holds a bachelor's degree in business administration/human resources management from Winthrop University, a master's degree in human resources development from Webster University, is certified as a Senior Professional in Human Resources (SPHR) from the Human Resources Certification Institute, and is a Senior Certified Professional through the Society for Human Resource Management (SHRM-SCP).
"I am thrilled to serve in a mission-based organization such as Goodwill. I'm looking forward to partnering with leadership, employees, community partners, and others to help maximize their greatest potential and provide goodwill to all" said Leake. "Positively impacting lives is what I love to do!"