Upstate/Midlands Goodwill Awarded Grant to Support the Dept. of Labor's Growth Opportunity Program
April 28, 2023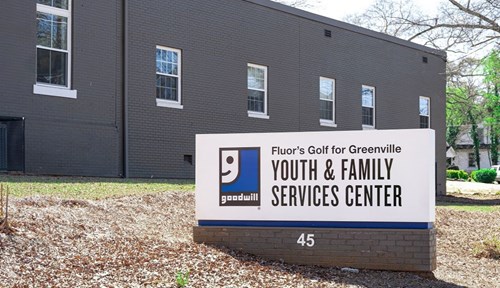 Greenville, SC - Goodwill Industries of Upstate/Midlands South Carolina (GIUMSC) is helping young adults impacted by the justice system transition into the workforce, thanks to a grant awarded to Goodwill Industries International (GII) by the U.S. Department of Labor's Employment and Training Administration (ETA). The LifeLaunch: Growth Opportunities (GO) training program is designed to prepare justice-involved young adults, ages 18–24, for success in the workplace.
GIUMSC is one of five Goodwill® organizations in the country selected by GII to receiving funding to offer the LifeLaunch: GO program to their communities, alongside Goodwill organizations serving Houston, TX; Santa Ana, CA; Shreveport, LA; and Tacoma, WA. Goodwill organizations in all five service areas will partner with state and local justice systems and employers to select the best candidates to be placed in Goodwill job training programs, ultimately making them eligible to fill in-demand jobs.
With this funding, GIUMSC will help prepare 70 young adults in Greenville, SC for employment through placement in paid work experiences. Participants will also benefit from other critically needed supports, including wrap-around supportive services; violence prevention, conflict resolution and leadership development training; mentorships; education and occupational skills development; and job search and placement services.
"We are honored to be chosen as one of the Goodwill subgrantees of the Goodwill LifeLaunch: GO program to continue our work to provide second-chance opportunities to young adults impacted by the justice system," said Tiffany Foster, Interim Director of Mission Advancement for GIUMSC. "By providing career and other support services to these young adults, we are helping to unlock the potential within them and open doors to opportunities they never thought were possible."
LifeLaunch: GO will not the be first time GIUMSC has provided re-entry help and career services to justice-involved young adults in South Carolina. GIUMSC's diverse range of programs connects this often-margianalized population to vocational training, legal help, records expungement, diversion, and a variety of other services to help these job seekers build self-suffiency through the power of work.
The LifeLaunch: GO program is made possible with a $4 million grant award, covering 86% of operating costs, from the U.S. Department of Labor Employment and Training Administration. Goodwill® is contributing leveraged funding valued at $667,414 to cover the remaining 14% of operational costs.