Goodwills in SC Host Legislative Day at State House
April 28, 2023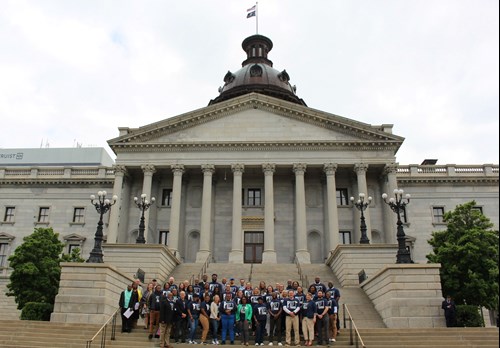 This week, locally operated Goodwills with territory in South Carolina hosted a joint Legislative Day at the State House to connect with lawmakers and share how the iconic non-profit creates generational impact right here in the Palmetto State.

Goodwill Industries of Upstate/Midlands South Carolina (GIUMSC) organized the event in partnership with three other separately run Goodwills. The collaborative effort marks the first time these four sister organizations have hosted such an event in the state.

Goodwill staff and legislators enjoyed lunch on the lawn to discuss how the non-profit's well-known thrift stores feed a cycle of "goodwill," turning dollars into countless services and resources for job seekers and families, all at no cost.

"It's always a special day when Goodwills from every corner of our state can gather for a time of fellowship and advocacy," said GIUMSC President Pat Michaels. "We reach out and extend a potentially life-changing hand to more than ten thousand people each year; something we couldn't do without the continued support from our legislators, community partners, shoppers and donors."

On Monday, May 1, 2023, GIUMSC will celebrate 50 years of operation in South Carolina. For the past half-century, GIUMSC has helped job seekers from all walks of life realize their potential. Whether through a Goodwill Job Connection, Industry-Specific Training program (CNA, CDL, etc.), Mission Mobile, or other skills training and resources, Goodwill offers a hand up to anyone in need, including the most marginalized segments of our population. As GIUMSC's slogan says, it's about "goodwill to all."