Goodwill Introduces ELEVATE: Drone Pilot Training Program in Partnership with AINautics
August 24, 2023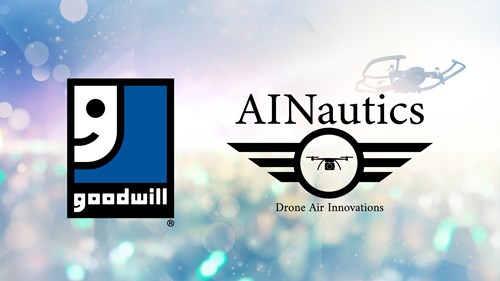 Goodwill Industries of Upstate/Midlands South Carolina (GIUMSC) is excited to announce the launch of ELEVATE, a cutting-edge drone pilot training program now open for registration. Developed through a partnership between GIUMSC and AINautics, ELEVATE equips aspiring drone pilots with the skills, knowledge, and expertise necessary to navigate the skies with confidence and proficiency. The program focuses on drone operation and safety, preparing participants for the FAA 107 exam.
"As the drone industry continues to soar to new heights, the demand for skilled drone pilots is on the rise. ELEVATE provides a comprehensive solution to bridge the gap between advancements in drone technology and the need for well-trained pilots who can harness the potential of these devices effectively and safely," said Michaels. "Our commitment at Goodwill is to provide education and training, helping individuals become self-sufficient and lead independent lives. This program offers an additional opportunity to help our community thrive through the power of work."
"Drone technology has been part of commerce for years and has slowly been embraced and adopted in our state. This partnership will help continue developing a pipeline of drone professionals with the skills to take on careers or entrepreneurial opportunities," said AINautics Co-founder Christopher Williams. "We need programs and partnerships like Goodwill to continue exposing South Carolina to opportunities before they get here, not when they are here."

ELEVATE's first class of aspiring drone pilots will meet for a two-day bootcamp Saturday, September 30, 2023, and Sunday, October 1, 2023, at GIUMSC's Administrative Offices in Greenville (115 Haywood Road).
Course Structure and Details

BOOTCAMP: AINautics' seasoned drone pilots will share their extensive knowledge and real-world experience to prepare participants for the FAA 107 Part A exam. Material covered includes the fundamentals of Federal Regulations, drone vocabulary, understanding how to obtain a remote pilot certification airspace classification, operating requirements, and weather reporting. No experience or training is required for the course. Participants must be at least 16 years old - the minimum age to acquire a drone pilot license.

EXAM: Participants are required to pass the FAA 107 Part A exam within two weeks of completing the 16-hour bootcamp. That means anyone who attends the bootcamp on September 30th and October 1st must complete the exam by October 13th.

FIELD TRAINING: Participants must complete a full-day drone operation training after passing the exam. For the class held September 30th and October 1st, the field training will take place Saturday, October 14th at Goodwill's Sulphur Springs location - 412 Sulphur Springs Road, Greenville, SC 29617.

Goodwill and AINautics will announce future bootcamp dates as they are confirmed.