Goodwill to Open Second Auten's Loft Boutique in Lexington, SC
August 18, 2023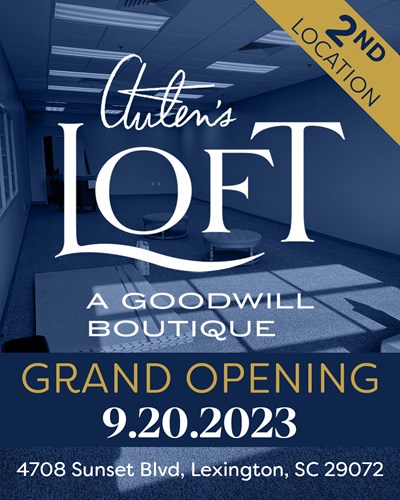 (Lexington, SC) Goodwill Industries of Upstate/Midlands South Carolina (GIUMSC) will open its second specialty retail store - Auten's Loft - on September 20th at 10 a.m., located along Sunset Blvd. in Lexington. This boutique-style experience is conveniently located in the Goodwill Retail Store at 4708 Sunset Blvd., Lexington, SC 29072.

Auten's Loft is named in memory of GIUMSC founder, Lloyd Auten, and will offer affordable designer and name-brand women's and men's clothing, jewelry, shoes, accessories and select home décor in a refined, stylish setting. Products, taken entirely from donations, are tailored to those who are looking for trendy, fashionable and designer apparel and furnishings. The fashion-minded staff will be on hand to help customers style the perfect outfit, whether they are a fashion-savvy mom, a budget-minded businessperson, or just a smart shopper with an eye for what's trending.
The original Auten's Loft, which opened in Chapin, SC in 2022, has become a go-to shopping experience for high-end thrifters across the region.

"Boutique-style thrift shopping provides a reimagined retail experience for our customers. We hope to bring joy to our shoppers, while furthering the cycle of goodwill for jobseekers who come to us for career help, training, education services, and more," said GIUMSC President/CEO Pat Michaels. "When you shop at Goodwill, you never know what deal or treasure you'll find, but you'll always know every purchase is making a positive impact for someone in your community looking for a sustainable life."

Prices at Auten's Loft are determined by current trends, as well as by considering designer and brand names. Prices at the boutique range, on average, from $3.99 - $24.99.  Only card/digital payments will be accepted.
Starting September 20th, Auten's Loft on Sunset will be open Tuesday – Saturday from 10 a.m. – 7 p.m., the same hours as the Chapin location.