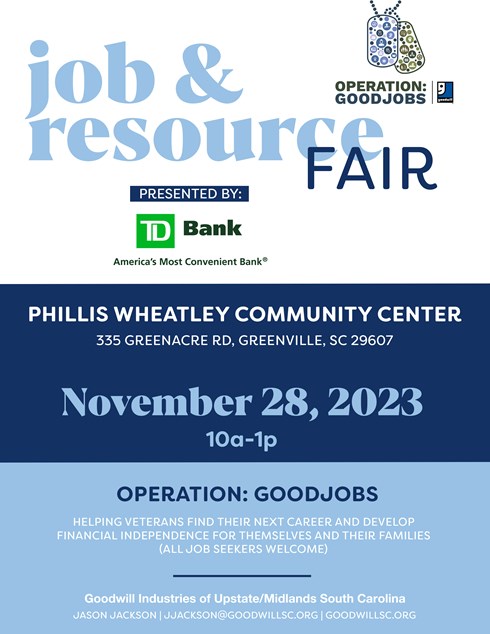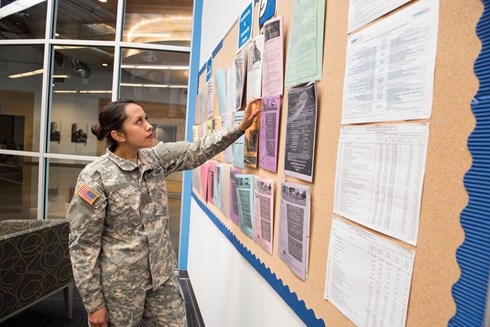 Operation GoodJobs - Upstate Veterans Job and Resource Fair - November 28, 2023
November 28, 2023
10:00 AM — 1:00 PM
Phillis Wheatley Community Center - 335 Greenacre Road, Greenville, SC 29607
On Tuesday, November 28, 2023, Goodwill Industries of Upstate/Midlands South Carolina will host employers and community resource groups at Phillis Wheatley Community Center in Greenville, SC from 10am - 1pm. 
This job and resource fair, presented by TD Bank, offers job seekers and veterans the chance to meet directly with a variety of companies about employment and engagement opportunities. 
Goodwill will also be on-site hiring for retail store positions ranging from Warehouse Associate to Store Manager. 
Operation:GoodJobs aims to honor and assist the brave men and women who have served our nation by providing them with a platform to access valuable resources and opportunities that will help them transition into the civilian workforce successfully. 
Please join us for this great event.  
If you are an organization who would like to have a table and participate in this event, click here.
Operation:GoodJobs Job and Resource Fair
Phillis Wheatley Community Center
335 Greenacre Road, Greenville, SC 29607
November 28, 2023
10am - 1pm