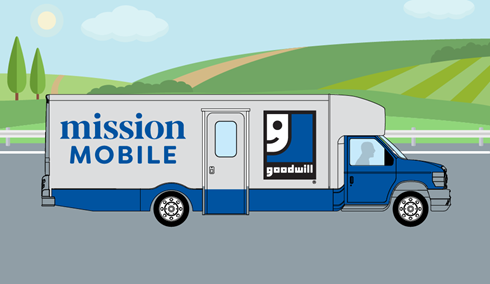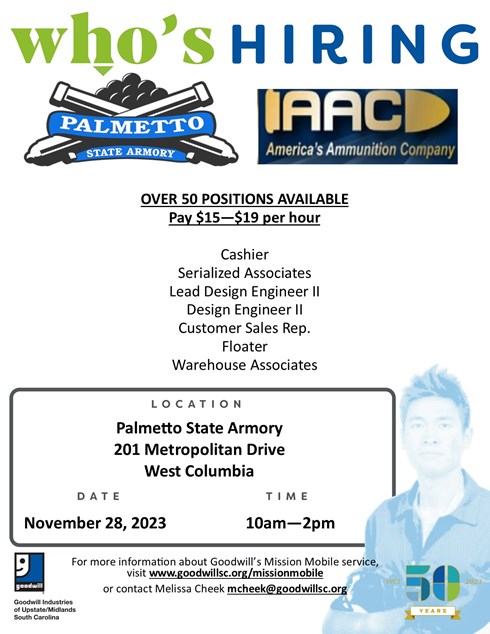 Mission Mobile Rolls to West Columbia for Palmetto State Armory Hiring Event
November 28, 2023
10:00 AM — 2:00 PM
201 Metropolitan Drive, West Columbia, SC
Mission on the Road!
Our mission is helping the community through their employment journey, making the job search more convenient for every job seeker according to their individual's needs.
Our experts will guide you at every step, offering career coaching, access to job search, connecting with potential employers, referrals to community resources, providing training to increase job opportunities, and resume writing assistance. Bilingual services available per request.
All-in-One unit to help overcome employment barriers throughout the Upstate & Midlands. Because, we understand you!
Partner name
Palmetto State Armory
Location:
201 Metropolitan Drive, West Columbia
Date: 11/28/2023
Time: 10a-2p
Since its inception, Palmetto State Armory has focused on providing the best quality AR-15 parts and accessories for the best price possible. Following year after year of exponential growth, Palmetto State Armory's core principle remains the same, and our commitment to freedom before profit remains unwavering. The idea is simple:
SELL AS MANY GUNS TO AS MANY LAW-ABIDING AMERICANS AS POSSIBLE.
Putting guns into "common use" is an important legal defense established by the Supreme Court that safeguards the rights of the people against tyranny by prohibiting restrictions on firearms found to be "in common use". Putting any gun into "common use" protects against any attempt by the government to further infringe on the Second Amendment right of all Americans.
Looking to fill the following positions:
Cashiers, Plant Manager, CNC Operators, Machine Operators, Warehouse Associates, Compliance Associates, Product Packaging Technician, Serialized Associate, Serialized Inventory Associate, and several other positions.
Must be able to pass background and drug screens.
Hiring for all hours, pay varies on position
Benefits to attend
Increase awareness of job openings, assist with Hiring Event and provide an interview space.
Assistance with Employment
Connect guests' employment opportunities in the area
Assist with Hiring event
 Don't miss this resourceful event; our goal is to provide high quality and comprehensive services to all.