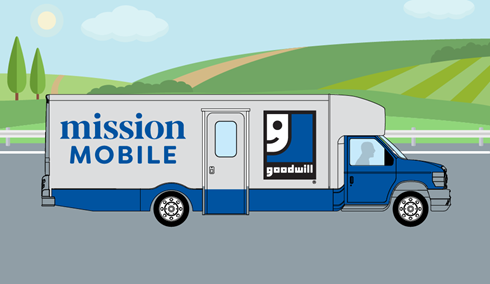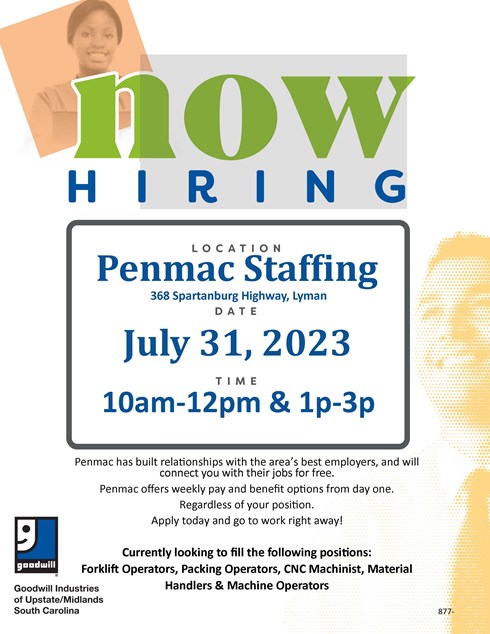 Mission Mobile Rolls to Penmac Staffing in Lyman for Hiring Event
July 31, 2023
10:00 AM — 3:00 PM
368 Spartanburg Hwy., Lyman, SC
Mission on the Road!
Our mission is helping the community through their employment journey, making the job search more convenient for every job seeker according to their individual's needs.
Our experts will guide you at every step, offering career coaching, access to job search, connecting with potential employers, referrals to community resources, providing training to increase job opportunities, and resume writing assistance. Bilingual services available per request.
All-in-One unit to help overcome employment barriers throughout the Upstate & Midlands. Because, we understand you!
Partner name
Penmac Staffing
Location:
368 Spartanburg Highway, Lyman
Date: 7/31/2023
Time: 10a-12p & 1p-3p
Penmac hopes to provide job seekers with work that meets their basic immediate needs and career goals, while making them feel appreciated and valued as individuals.
When Penmac associates are assigned to the best job for them, our business clients benefit from a motivated, skilled workforce. A leading provider of human resource services, Penmac has the staffing industry expertise, but more than that, Penmac places people first.st Services: (According to the event)
Looking to fill the following positions:
Forklift Operators, Packing Operators, CNC Machinist, Material Handlers & Machine Operators
Must be able to pass background and drug screens.
Hiring for all hours, pay varies on position
Benefits to attend
Increase awareness of job openings, assist with Hiring Event and provide an interview space.
Assistance with Employment
Connect guests' employment opportunities in the area
Assist with Hiring event
 Don't miss this resourceful event; our goal is to provide high quality and comprehensive services to all.