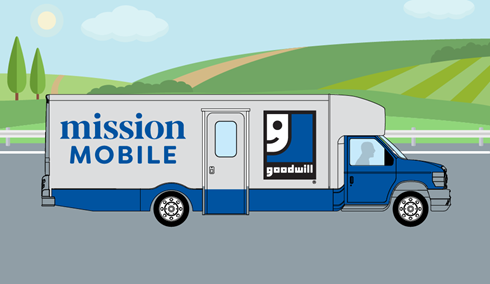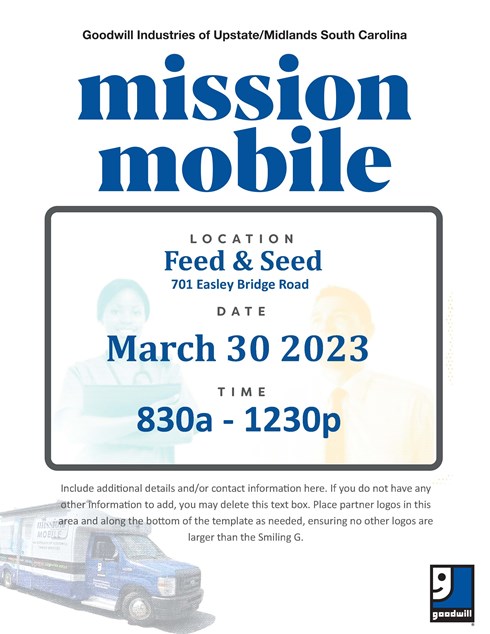 Mission Mobile Rolls to the Feed & Seed Co.
March 30, 2023
8:30 AM — 12:30 PM
701 Easley Bridge Road, Greenville, SC
Mission on the Road!
Our mission is helping the community through their employment journey, making the job search more convenient for every job seeker according to their individual's needs.
Our experts will guide you at every step, offering career coaching, access to job search, connecting with potential employers, referrals to community resources, providing training to increase job opportunities, and resume writing assistance. Bilingual services available.
All-in-One unit to help overcome employment barriers throughout the Upstate & Midlands. Because, we understand you!
Feed & Seed Co.
Location: Feed & Seed Co.
701 Easley Bridge Rd, Greenville
Date: Thursday March 30th  
Time: 830am – 1230pm
Through networks, programs, and facilities, Feed & Seed Co. strives to improve the health and well-being of all citizens by increasing access to nourishing local foods and establishing a truly sustainable food system built on profitable farms and independent markets.
Our community-rooted Food Innovation Hub plays a central role in the Feed & Seed Co. mission. Designed as a multi-purpose facility to support our local farmers and the community, it's a space that provides food growers and makers the infrastructure and support systems needed for success. As a one-stop-shop, we act as a 'concierge' filling the gaps and increasing access to fresh, affordable local food within the Upstate Food and Nutrition System.
Benefits to attend
Assistance with Employment
Connect guests employment opportunities in the area
Connect guests with agencies to provide technical training
 Don't miss this resourceful event; our goal is to provide high quality and comprehensive services to all.