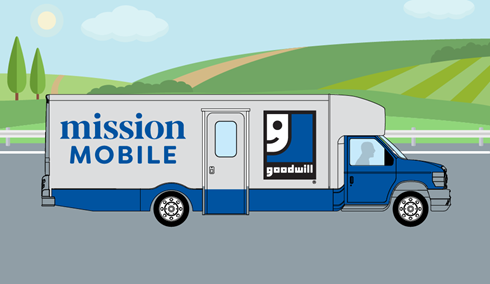 Mission Mobile - Greenville
December 9, 2022
9:00 AM — 1:00 PM
222 Rutherford St., Greenville, SC 29609
Mission Mobile is on the road to Triune Mercy Center. 
On Friday, December 9th, Mission Mobile will participate in the Community Resource Fair from 9am - 1pm.  The fair, hosted by Goodwill Industries of Upstate/Midlands South Carolina will feature a variety of organizations that provide necessary services to those who need them. 
Mission Mobile's goal is to help the community through their employment journey, making the job search more convenient for every job seeker.  
Our experts will guide you through every step, offering career coaching, job search access, connection to potential employers, referrals to community resources, resume writing assistance, and much more. 
Our all-in-one unit is here to help you overcome employment barriers, and provide the help you need to take your next step toward your career. 
Community Resource Fair
Triune Mercy Center
222 Rutherford St.
Greenville, SC 29609
9am-1pm
Community partners include: 
Department of Social Services
FAVOR Upstate
Greenville Literacy
Phyllis Wheatley Center
SC Thrive
SC Work Upstate
SHARE
Upstate Warrior Solution