History
Goodwill Industries was founded in 1902 by Rev. Edgar J. Helms, a Methodist minister and early social innovator. He collected used goods from wealthy Bostonites and hired people to do repairs, resold items to pay wages or gave them to those in need. His system of donors, shoppers and job seekers helping each other has been at work in South Carolina for almost 50 years.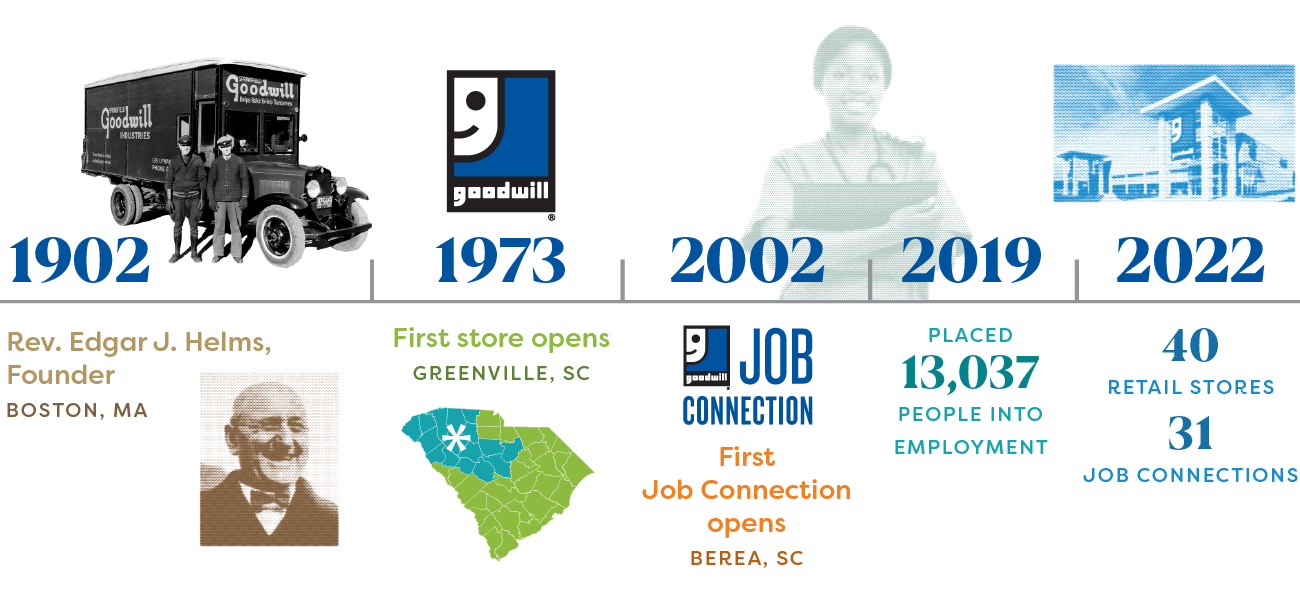 1973
Goodwill Industries of Upper South Carolina founded to provide job training and placement so individuals with disabilities can achieve greater independence.
First store opened in Greenville.
1975
Assisted 141 people and placed 20 into employment.
1997
Goodwill expanded into Midlands with store in Columbia.
1998
New food service training program established.
Assisted 312 people and placed 144 into employment.
2002
First Job Connection opened in Berea, with Columbia, Greenville, Simpsonville, Anderson and Greer locations opening within five years.
2005
New headquarters and distribution centers open in Greenville with Subway franchise to train food service employees.
First Clearance Center opens in Greenville.
2006
New name — Goodwill Industries of Upstate/Midlands South Carolina — debuted.
2009
Certified nursing assistant training launched.
Assisted 17,800+ people and placed 2,800+ in employment.
2011
Served 32,000+ people and placed 6,000+ in employment.
2012
Partnered with United Way of Greenville County to open first Financial Stability Center in Simpsonville
2014
Placed 10,000+ into employment. 
2016
Midlands headquarters opened in West Columbia including regional offices, retail store, outlet store, and Goodwill's 25th Job Connection.
2019
Placed 13,037 people into employment.
2021
Ranked second among 156 Goodwills for people placed into employment
Grew to 49 attended donation centers, 40 retail stores and 31 Job Connections